Will's Pro Custom Manufacturing will manage your production from initial design and manufacture of one piece to full production. We accept piece work or long-term production schedules. We will work closely with you to determine a suitable delivery to meet your expectations.
Stainless Steel Chemical Parts Washer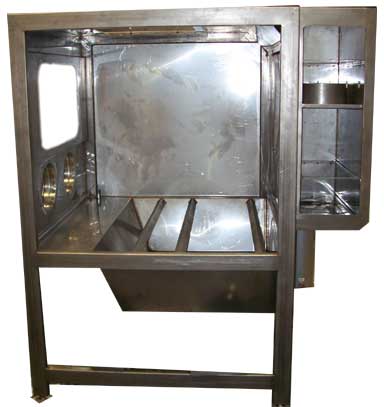 To the left is a stainless steel, non-vented, chemical wash, parts cleaning unit which our staff helped the customer design at our facilities. This unit was fabricated entirely by Will's Pro Custom Manufacturing.
Contact us for help in designing and fabricating your special product.
Click image to enlarge
Detail photos of the stainless steel chemical wash parts cleaner.
Click image(s) to enlarge for detail.

The fan guard illustrates the capabilities to provide intricate, precision wire forming to meet nearly any criteria.
Tubing bent without kinking for use on diesel engine fuel delivery system.
A group of flat-forming examples. Most any shape - simple or complex - can be shaped to your specifications.